HOME » Practical Information
Practical Information
Updated May 8th 2006.
This page will provide you with essential information when visiting the Bossou/Nimba research site. However, note that some important changes can occur concerning prices, telephone numbers and transport possibilities. It is thus adviced to check for the most updated information just before your trip, although the procedure remains unchanged.
---
To be able to visit the B/N field research site in Guinea, you must follow certain rules. Once you arrived at Bossou you must introduce yourself to IREB authorities, in order to be registered and to pay the entrance fees(about 35000FG per visit per person). IREB's staff will explain you the extremely important rules to respect for observing chimpanzees, and provide you a guide without whom you can not enter the forest.

The field research site doesn't provide accommodation for tourists! In that sense, it can be better to plan a daily journey from N'Zerekore.
---
For researchers and students
Preparing your trip
You MUST contact Professor Tetsuro Matsuzawa, director of the team, prior to any trip plan.
Get Guinean VISA
Contact the Guinean embassy closer to your place of residence. The procedure should take 48 hours if you bring personally your passport to the embassy, one to two weeks (or even more) if you send your passport by mail.
These are the requested documents to get a short period visa
(1 or 3 months single entry)
Valid passport (at least 6 months)
Fee: 60 euros for a one-month visa et 87 euros for a three-months (cash or or cash money order payable to Guinean Embassy)
An invitation letter, an "ordre de mission" or a formal hotel reservation (In our case please request an invitation letter to Professor Matsuzawa)
Two (2) full application forms (can be downloaded from website or retrieved at the Consulate)
Two (2) passport-sized photographs
A stamped self-addressed envelope (Chronopost, DHL or Express) to send back the documents for those requesting visa by mail.
You should properly inform the director of KUPRI of your detailed schedule in advance.
Vaccination
You must be vaccinated against yellow fever and present your vaccination certificate while you enter the country.
Other specific vaccinations (such as typhoid, hepatitis, meningitis, etc...) and anti-malaria prophylaxis are strongly recommended.
If you need to get several vaccines, don't wait the last week before your departure to do it!
Liberian and Ivorian Visas
If, for a very specific reason, you need to get the Ivorian and/or Liberian Visa, you may try to get it from your place of residence or request it to the representative embassies in Conakry. The Republic of Liberia also has a consulate in N'Zerekore. (Price for the Ivorian visa in Conakry: 240.000 FG in March 2006).
You don't need to have those visas to work at Bossou and other field research sites in Guinea.

Arriving at Conakry
Ordre de Mission and research authorization
The Guinean Ministry of Education and Scientific Research is working in collaboration with us (thought the Direction Nationale de la Recherche Scientifique et Technique).
Doctor Tamba TAGBINO from the DNRST is currently the person in charge of the collaboration. He will be alerted of your venue by Professor Matsuzawa.
Once you arrive to Conakry, you should visit the DNRST's office (on a week day!), where Dr. Tagbino will provide you an "Ordre de Mission" to safely travel throughout the country.
Visa extensions
The persons at DNRST can also help you to obtain a renewal of your first three- month visa in case you are planning to stay longer in Guinea.
Visa extensions for the Guinean Visa are now free for researchers and students as of October 2001. You can go through the DNRST who will help you to contact the right people for the process.
Hotels in Conakry
There are many hotels in Conakry, from very luxurious to very basic ones. You will find a small selection bellow. If you are planning to stay for a short period of time in the city and you will be busy with administrative issues, it might be convenient to stay down-town. However, if you rather to stay in a peaceful place after having spend all the day down-town, you can stay in Taouyah or Ratoma districts (between down-town and airport) and call for a taxi from there.
Transports
Please check with Professor Matsuzawa before your trip whether TOYOTA car, belonging to KUPRI team, is available during your stay in Conakry and for your transfer to Bossou. If the car is not available, you will need to use taxis in Conakry and bush taxi or plane to reach Bossou.
Conakry
Taxi fare
| | |
| --- | --- |
| From Conakry Airport into Town | 20,000 FG Max (official taxi) |
| | 10,000 FG (non-official taxi) |
| From Kipe to Khaloum | by Macbana or taxi 2100 FG (3 segments of 700 FG); |
| | by deplacement (private taxi): should be 2100 x 6= 13000 to 15000 FG. |
Macbana fare (public taxi): 900 FG minimal course.
Conakry-Nzerekore
By plane between Conakry and Bossou (regularly suspended)
Single (one way): approx. 360,000 FG
Agency in Conakry (Named: IATA):
Location: Avenue de la Republique between Aeroflot Agency and the Banque Populaire Maroco-Guineene
Tel: 45 38 01/45 38 02 Mobile: 011 21 28 79/012 66 38 66 -By bush taxi
Conakry-N'Zerekore: approx.100,000 FG one way (it takes about 20 hours at the end of the rainy season).
We recommend paying the 2 places next to the driver (one full seat per person)
Taxi Station in Conakry: Rond point Bambeto.
N'Zerekore-Lola-Bossou
By bush taxi:
Lola-Bossou : 6000 FG, N'Zkre-Lola : approx. 10,000-15,000 FG.
Money and basic stuff price
We recommend you to bring cash money to Guinea (dollars US$ or euros E). You can easily change them to "Franc Guineen" (FG) in Rue de la Republique.
Exchange rate (on May 2nd 2006, can quickly change):
1US$=4650 FG
1E=5800 FG
50kg of rice = 110,000 FG
1liter of cooking oil = 36,500 FG
1 liter of gasoline = 4,000 FG (very instable)


Arriving at Bossou
Registration with IREB administration and local authorities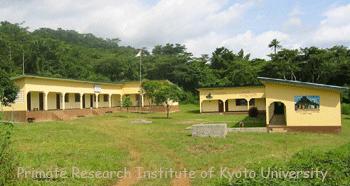 Director: Dr. Makan KOUROUMA
Assistant Director: Mr. Iba CONDE
Other staff: one head person for each department (Scientificial Resources, Climatology, Primatology, Geology, Ecology, Genetics...)
1. On arrival at Bossou, any researcher or student must register with IREB administration and with the police and military in Tuo (next village, on the Liberian border).
2. Anyone working at Bossou must inform the IREB which guides are intended to use for the period of time they will be carrying out research. Researchers must also inform them if they want to use Bossou guide(s) outside of the Bossou Natural Reserve.
Finally to keep the good collaboration, it is vital to regularly informed IREB about your movements and activities.
Using KUPRI cars and facilities
Any student or researcher should be careful that all the papers for the car are in order. This includes Insurances (Yearly basis: 1) SOGAM and 2) CEDAO (for coverage abroad as in Cote d'Ivoire), 3) the Vignette and 4) the Car Technical check-up (Yearly basis). The Technical check-up should preferably be done in Conakry; there is no formal infrastructure for such a test to be delivered outside the capital so far.
You must inform in advance the director of IREB's director about your intentions for using one of the cars. Each car must be driven by one of the two drivers (IREB staff).
All the students and researchers present at Bossou should collaborate with each other and decide their own personal arrangements concerning food and daily life. The site manager is in charge of staff management and other site-related matters.
Facilities: water, generator for electricity, kitchen, bed with mosquito nets, short emails can be sent and received.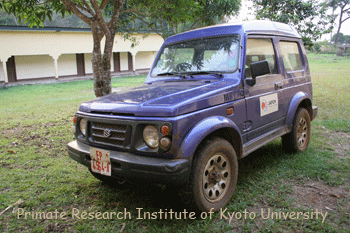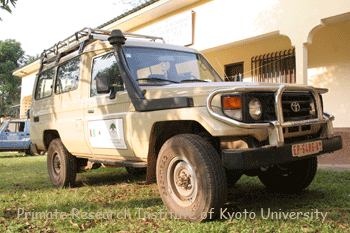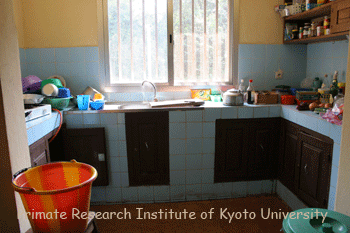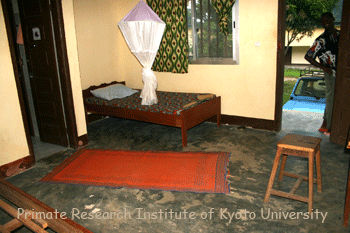 Visiting neighbor research sites
If you are planning to visit or to do research in other research sites than Bossou, you might need specific research authorizations and arrangements. Please contact Professor Matsuzawa for more detailed information.
At Seringbara (Nimba Mounts, 5 Kms from Bossou), 3 camp sites has been established and permanent guides are regularly surveying in the Nimba's forest, under the supervision of researchers and students working there.
At Diecke, Gouela, Ziama, no permanent guides nor camp sites have been established.
At Yeale (Ivory Coast), permanent guides are still receiving salary to provide information about Yeale's chimps, but up to now it is not possible to work there for safety reasons.


ADDRESSES OF SOME GUINEAN EMBASSIES ABROAD
Embassy of the Republic of Guinea in Japan

12-9 Hachiyamacyou, Shibuya, 150-0035, Tokyo
Japan
Tel: (+81)-0-3 3770 4640

Ambassade et Consulat de la République de Guinée in France

51, rue de la Faisanderie, Paris
Tel: (+33)-0-1 47 04 81 48; Fax: (+33)-0-1 47 04 57 65
Ouverture du Consulat : du lundi au vendredi de 10h00 á 12h30
http://www.ambaguinee-paris.org/

Embassy of Guinea in UK

20 Upper Grosvenor St., London W1X 9PB
Tel: (+44)-0-207 333 0044

Embassy of the Republic of Guinea in US

2112 Leroy Place NW
Washington, DC 20008
Tel: (+1) 202 986 4300

ADDRESSES OF LIBERIAN EMBASSIES ABROAD
Embassy of the Republic of Liberia in Japan

3kai 304gou, 1-4-2 Azabudai, Minato-ku, 106-0041, Tokyo
tel: (+81)-0-3.3584.1676, (+81)-0-3.3584.1678

Ambassade de la republique du Libéria in France

12, place du General Catroux 75017, Paris
Tel : (+33)-0-1 47 63 58 55

Embassy of the Republic of Liberia in UK

Address: 23 Fitzroy Square, London, W1T 6EW
Tel : (+44)-0-20 7388 5489

ADDRESSES OF IVORIAN EMBASSIES ABROAD
Embassy of the Republic of Cote d'Ivoire in Japan

〒151-0064 
2-19-12 Uehara, Shibuya, 151-0064, Tokyo
Tel: (+81)-0-3 5454 1401 /1402 /1403

Ambassade de la Republique de Cote d'Ivoire in France

102 Avenue Raymond Poincarre, 75 116, Paris
Tel: (+33)-0-1 63 64 62 62, Fax: (+33)-0-1 45 00 47 97

Ambassade de la Republique de Cote d'Ivoire in UK

2 Upper Belgrave St., London, SW1 X8BJ
Tel: (+44)-0-207 235 6991, Fax: (+44)-0-207 259 5320

ADDRESSES OF FOREIGN EMBASSIES IN GUINEA
Ambassade du Japon

Lanseboundji Corniche Sud
Commune de Matam
B.P. 895, Conakry
Tel: (+224) 41 36 07
Cellphone in Guinea: 60 25 25 58
Fax: (+224) 41 25 75/36 07

Ambassade de France

Bd du Commerce (Khaloum, Centre-ville)
B.P. 570, Conakry
Tel: (+224) 41 16 05/ 41 55 41/ 41 17 42/ 41 46 67
Fax: (+224) 41 27 08

Ambassade de la Republique de Cote d'Ivoire

Bd du Commerce B.P. 5228 - Conakry
4th Avenue, half a block west of Boulevard du Commerce (Khaloum).
Tel: (+224) 45 10 82/83 - Fax: (+224) 45 10 79
Delivery Time for visa: 48 Hours max.

Ambassade du Liberia

Bureau 18 Matam Coleah, Conakry:
Tel: (+224) 46.20.59

ADDRESSES OF MINISTRIES IN CONAKRY
Direction de la Recherche Scientifique (DNRST)

Near Presidential Palace (south side), in front of "etat major de la gendarmerie"
Fax: (+224) 45 32 17 Tel: (+224) 43 02 66/45 43 06
Contact : Dr. Tamba TAGBINO (Directeur Adjoint)
Email of Dr Tagbino: tagbino2000@yahoo.fr

Ministere de l'Enseignement Superieur et de la Recherche Scientifique

Walking distance from DNRST, on the other side of the presidential palace, near UNESCO office, just north of the big church.

ADDRESSES OF HOTELS IN CONAKRY
In Khaloum (centre-ville)
Hotel Central(near Rue de la Republique/Route du Niger)

BP. 2123, Conakry
Tel: (+224) 43 12 50 / 43 11 40
Fax: (+224) 43 11 30
Not charming but practical hotel (bathroom, air cond., TV). No restaurant.
Price: 40 $ per night per person

Hotel-Restaurant Le Rocher

BP 2244, Conakry
Quartier Sandervalia (near Ignace Dean hospital)
Tel: (+224) 41 37 04 / 43 55 55
Fax: (+224) 43 36 37
Cell: 60 66 22 58 /60 66 22 04
Email: hotel_rocher@yahoo.fr
Comfortable rooms (bathroom, air cond., TV), good restaurant, swimming-pool.
Price: 80 US $ per night per person.

Hotel Novotel

BP 287, Conakry
Tel : (+224) 30 41 50 21
Fax : (+224) 30 41 16 31
E-mail : H0509@accor.com
Located in the city center at the oceanfront in a residential district, near ministries. 20 minutes from Gbessia airport with free shuttle service.
4 star hotel offering air-cond. and comfortable rooms, 2 restaurants, pool, meeting rooms, tennis and parking.
Price: 136 US $ per night per person (this hotel is well situated but too expensive for a relatively bad service).
Between airport and Centre-ville
Hotel Meridien Mariador Palace

BP 2146, Conakry
Located at the oceanfront in the heart of Ratoma district and not too far from the International Airport.
Tel : (+224) 42 15 38 /39 / 42 24 58 /42 40 00
Fax : (+224) 42 36 00
4 star hotel offering air-conditioned and comfortable rooms, restaurant, meeting rooms, nice garden, parking and big clean pool.
Price: 120 US $ per night per person.


Hotel Mariador Residence

BP 2146, Conakry
Quartier Taouyah
Tel (+224) 60 26 06 22
Fax : (+224) 42 36 00
Prices : 40 to 50 E (long stays arrangements possible)

Hotel Mariador Park

Quartier Taouyah
Cell: (+224) 60 22 97 40
Fax : (224) 42 36 00
Nice rooms, restaurant, tennis.
Price : 28 E (simple), 36 E(double), 43 E (flats), 50 E (studio)

Pension Chez Mme Ghussein

Quartier Ratoma (near Cyber Cafe Ratoma and Hotel l'Océane (le Galion))
Cell: (+224) 60 59 38 03
Familial atmosphere, comfortable rooms (bathroom, air cond., TV) at the oceanfront.
Price: 22 E ou 130,000 FG per night per person.

Hotel-Restaurant Océane (ancien Le Galion)

BP 3044, Conakry
Quartier Ratoma (near Cyber Cafe Ratoma)
Tel/Fax: (+224) 34 42 86
Cell: (+224) 60 22 66 85
Email: galion@biasy.net
Web: www.galion-conakry.com
Comfortable rooms (bathroom, air cond., TV), French restaurant, swimming-pool at the oceanfront.
Price: about 150,000 FG per night per person

Hotel-Restaurant Cesar

BP 4051 Conakry
Quartier Tahouya (coming from tahouya market: at the "le transit" crossroads to the left for 300 m. then to the left in the small tar street, the hotel is 150 m. after on the right side). Good Italian food. Comfortable bungalow rooms (air cond. Mosquito net, fridge, TV), parking.
Cell (+224) 60 21 24 76/ 60 22 10 67
E-mail: hotel_cesar@yahoo.fr


USEFUL WEB LINKS