HOME » Staff In Guinea
Staff In Guinea
Staff in Guinea
Direction Nationale de la Recherche Scientifique et Technologique (Conakry)- DNRST

Mamby KEITA
Status/Function: PhD. National Director since 2008.
Ex-director of Institute of Higher Technology, Mamou.

Vassy-Dan CAMARA
Status/Function: PhD. Assistant Natioanl Director since 2008.


Idrissa MAGASSOUBA
Status/Function: PhD. Head of Cooperation Division

Tamba TAGBINO
Status/Function: Scientific Research Advisor
Ministry of Higher Education, Scientific Research and Technology
Assistant National Director-DNRST between 2000-08
PhD in Mathematics

Institut de Recherche Environnementale de Bossou - IREB
The Bossou Environmental Research Institute (IREB) was created in October 2001 by the Guinean Government.
IREB's major research interests are in Primatology, Climatology, Botany, Zoology, and Sociology.
IREB, in collaboration with DNRST, has established a scientific cooperation with KUPRI since 2001.
KUPRI and IREB work in close collaboration, sharing staff and facilities at the Bossou Research Station.



Ali Gaspard SOUMAH
Status/Function: Director since 2009
PhD in Primatology, University of Kyoto, Japan

Makan KOUROUMA
Status/Function:
Director between 2003-09
PhD in Agronomy

Iba CONDE
Status/Function:
Assistant Director since 2000
D.E.A.

Sakho DJEMORY
Status/Function:
Scientific Secretary since 2001
D.E.A.

Cécé Ignace KOLIE
Status/Function:
Head of the Primatology Department since 2001

Ouo-Ouo DELAMOU
Status/Function:
Head of the Genetic Resources
Department since 2001
Passed away in December 2011

Kognon ZOUMANIGUI
Status/Function:
Head of the Documentation Department since 2001

Paquillé DORE
Status/Function:
Accountant since 2001

Gnagané (Madeleine) DOUNAHARA
Status/Function:
Secretary since 2004

Paquilé CHERIF
Status/Function:
Field assistant since 2002
Diploma from Forestry School of Mamou
Expertise in Botany

Pascal GOUMY
Status/Function:
Field assistant since 2002

Cé GOUMY
Status/Function:
Poaching surveillance since 2003

Daougka SAMY
Status/Function:
Guardian of IREB buildings since 2001

Michel HABA
Status/Function:
IREB Technician (electricity and mechanic) since 2001

Michel CAMARA
Status/Function:
IREB Local staff since 2009
In charge of maintenance of Green Corridor

Fodé CAMARA
Status/Function:
IREB Local staff since 2003

Moussa SANGARE
Status/Function:
Permanent driver since 2009

Soua CAMARA
Status/Function:
Driver since 2003, temporary since 2009

Cé Alexis ZOGBILA
Status/Function:
IREB Local staff since 2002
Passed away in April 2009

BOSSOU
KUPRI Permanent Staff in BOSSOU

Guano GOUMY
First Field assistant of Y. Sugiyama since 1976 and since 2000, a consultant guide
Passed away in Dec 2006

Tino CAMARA
First field assistant of T. Matsuzawa, since 1982 and retired in 1997
Passed away in Dec 2005

Pascal GOUMY
Status/Function: Field assistant since 1993

Paquilé CHERIF
Status/Function: Field assistant since1995
Graduated from École Nationale des Agents Techniques des Eaux et. Forêts (ENATEF) in 2008
Expertise in botany


Jiles GONDO DORE
Status/Function: Field assistant since 1998
Keen photographer

Bonifas ZOGBILA
Status/Function: Field assistant since 2000
Specialized in video assistance in the outdoor laboratory

Marcel DORE
Status/Function: 公式ガイド
Field assistant between 2000-07
Ecoguard of the Nimba Biosphere Reserve
via CEGEN-Biodiversity Project-UNDP since 2007

Henri Didier CAMARA
Status/Function: Field assistant since 2003
Keen botanist


Gouanou Zogbila
Status/Function: Field assistant since 2009

Nyonko TRAORE
Status/Function: Cook and in charge of supplying hot water since 1989
Passed away in Dec 2006

Jacqueline DORE
Status/Function: Cook since 2006

Daougka SAMY
Status/Function: Guardian of KUPRI buildings
In charge of temperature records since 1994

Gbian Pierre GUEMY
Status/Function: Driver of TOYOTA and SUZUKI cars since 2003

Buna ZOGBILA
Status/Function: Surveillance of the Green Corridor since 2003

Remy TRAORE
Status/Function: Surveillance of the Green Corridor since 2003

Soh Pletah BONEMY
Status/Function: Teacher at the Bossou college
Coordinator of UVODIZ (local NGO) at Bossou
Manager for surveillance of Bossou forest and fire-break of GC since 2005

SERINGBARA
KUPRI Permanent Staff in SERINGBARA

Kassié DORE
Status/Function: Field assistant since 1999

Fromo DORE
Status/Function: Field assistant since 1999

Fokeyé ZOGBILA
Status/Function: Field assistant since 2003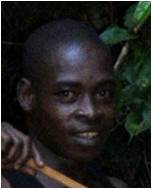 Séraphin DORE
Status/Function: Camp cook since 2008

YEALE (IVORY COAST)
KUPRI Permanent Staff in YEALE

David GRAY
Status/Function: Field assistant since 1993

Anatole GOGO
Status/Function: Field assistant since 1993
Old chief of Yeale village

Filbert PAHON
Status/Function: Field assistant since 1993

Anthony GO-PU
Status/Function: Field assistant since 1999

Alexi WANSEU
Status/Function: Assistant guide since 2001

Pascal GBIAN
Status/Function: Assistant guide since 2003