HOME » Green Corridor Project
Green Corridor Project
Would you like to see this page in Chinese? Click here.
About This Project
Since 1997, researchers from KUPRI have been working in co-operation with IREB and local villagers, and with the support of the Japanese Embassy in Guinea, the Guinean government and various international organizations, toward the creation of a "green passage". The aim is to plant trees along a 300m wide and 4km long stretch of savanna extending between Bossou and the Nimba Mountains in the hope of re-establishing a flow of migration between the Bossou chimpanzee community and the neighboring Nimba populations. There are four villages in the vicinity of the corridor: Bossou, Seringbara, Nion, and Thuo, all of whom are participating in this project.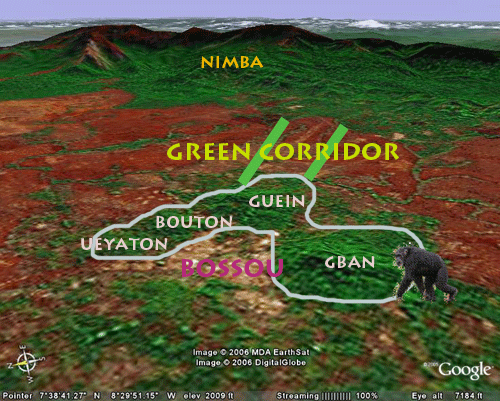 The Green Corridor project is unique. Increasing the connectivity between fragmented forest blocks is an innovative approach to conserving genetic diversity and ensuring the survival of chimpanzee, as well as other animals and plants species. It provides a sustainable economical incentive to local communities to contribute directly to the protection of their environment. This project also promotes a better local understanding of conservation issues through a hands-on approach. In combination with an environmental education program carried out in schools, it has inspired young people in the locality to take conservation issues seriously and to organize their own initiatives.
Ideally, the Green Corridor is more than a simple reforestation program: it is a spiritual program for the local people, to be managed by the local people. Our role is to help the seeds of conservation awareness grow in the hearts of the local people, who are after all the logical guarantors of wildlife protection in the region.
We have adopted four approaches to promote tree growth in the Green Corridor:
1) Eradication of all grassland species while preserving tree species already present in the corridor.
2) Encouragement of local associations in cultivating crops of choice in rows in the Green Corridor while planting young trees in between, harvesting and then weeding twice a year for one year. This has several advantages: a) it ensures that grassland species do not re-colonize b) it promotes natural fertilization of the soil c) it encourages the participation of villagers d) it alleviates agricultural pressures on the chimpanzees' habitat.
3) Directly planting saplings, at a density of 400 young trees per hectare. Priority is usually given to savanna adapted species such as Uapaca guineensis, Parkia bicolor, and Parinari excelsa. Tree growth progressively increases shade cover, providing propitious conditions for growth of other less resilient tree or vine species, representing important chimpanzee foods.
4) Maintenance of a firebreak surrounding the corridor three times a year, to incite natural regeneration of the forest within the corridor and to protect young saplings.
Although this project has made considerable progress, much remains to be done. We are carrying on our efforts with the continued collaboration of local women's, youth, and village associations, and local NGOs, whose contribution is invaluable for the success of this unique conservation initiative.